September 26, 2018
Hey friends,
I just toured a show that I care very deeply about and then I performed for six weeks off-Broadway. It's called THE NEW ONE.
And THEN the best possible outcome occurred.
Which is that audiences really got into it, reviews were great (Don't read them! No Spoilers!) and now a hotshot producer who did "In the Heights," "Avenue Q" and "Rent" is bringing it to Broadway.
Wait, what?
Mike Birbiglia?
On Broadway?

Yes. And yes. Both of those things at the same time. I'm surprised too. I'm not sure I can even grasp it. But THANK YOU. My only concern is that tickets for Broadway shows are insanely expensive. So I'm dropping you a line today with a very specific proposition. I asked my producer Kevin who has been wildly supportive and cool what is the LEAST AMOUNT that we can offer tickets for my fans.
He said we could have tickets starting at $69.
So click on this special offer link to get tickets and then maybe share this note with people you like because those are probably people who might like this too. Thank you from the bottom of my heart for supporting me all these years. Sometimes dreams come true and sometimes you jump through a window because you're so anxious and then 15 years later your dream comes true and it's sort of unrelated.
Thanks for the laughs. Here's to many more.
Love,
Mike
December 18, 2017
Hey friends,
Mike Birbiglia here. To celebrate my new tour THE NEW ONE I created my own five episode limited podcast called The Old Ones where I discuss my old albums with some old friends. I was lucky enough to wrangle John Mulaney, Pete Holmes, Judd Apatow, Ira Glass, my wife Jenny, and my brother Joe, and the episodes really are kind of a blast.
They're free. There are no ads. And they're really a fun listen. I never really wanted to do a podcast but now that I did I'm very glad that I did.
I hope you like it and I'll see you out there on the tour. Next month I'm in La Jolla, Los Angeles, Boise, and Salt Lake City. I'm announcing new cities soon and working on a plan for an extended run in New York City. I will let you know as soon as I know when that's gonna happen.
Thank you for all of your support and I will continue to make these little things as long as you continue to show up for them.
Love,
Mike
April 12, 2017
Hello friends,
Today I'm announcing a new tour. It's called "The New One," and I'm bringing it to 25 cities this summer and fall. Tickets just went on sale at TheNewOne.com, so you can get the best ones today.
I want to thank you for sticking with me for all these years. Because of you I've been able to make these very specific types of shows that are somewhat hard to describe. Perhaps you've tried to explain them to friends, sometimes successfully and sometimes not. Sorry about that. But I'm really proud of these shows. They are a blend of storytelling and standup comedy that have an arc and a single unifying theme.
If you liked Sleepwalk With Me and My Girlfriend's Boyfriend and Thank God For Jokes then I think you might just love The New One. It's the best one by my estimation for reasons that I will not explain for fear of giving any of the show away. I just hope you'll make it. Forward this to a friend. Share it on Facebook. Retweet it. Tell a stranger at Whole Foods. The best way for people to find out about my comedy is you guys trying to explain it to other people.
So thanks. And I'll see you out there. This is gonna be fun.
Love,
Mike
GET TICKETS NOW
7/24-7/29   Montreal, QC
8/2-8/13   Berkeley, CA
9/7   Greenville, SC
9/8  Charleston, SC
9/9    Durham, NC
9/15   Indianapolis
9/16   St. Louis
9/22   Madison, WI
9/23   Milwaukee, WI
10/5   Boston
10/13   Washington, DC
10/20   Denver
10/26   Los Angeles
11/3   Seattle
11/5   Portland, OR
11/11   Foxwoods, CT
11/17   Philadelphia
12/1   Pittsburgh
12/2   Detroit
12/8   Chicago
12/15   Atlanta
November 1, 2016
Hey friends,
This weekend I film "Thank God For Jokes" in Brooklyn for Netflix. (a few tix avail!) It's been an amazing run. Literally 100 cities (figuratively, "MILLIONS of cities"). So, THANK YOU.
Anyway, good news. New hour of comedy to work out. I've never been more excited about standup in my whole career. I have this sense that anything is possible and that I'm a better writer than when I started. I've written about 40 or 50 pages of raw standup that MAY OR MAY NOT work. So I'm taking it on the road to small clubs. Long Island, Westchester, New Jersey, Charlotte, Irvine, Cincinnati, DC, West Palm Beach, Virginia Beach, Philadelphia, and Syracuse. A lot of clubs close to my home in Brooklyn because I have an 18-month-old daughter and I'm a phenomenal father. (applause)
These "Working It Out" shows will be raw, semi-improvised, unfinished. When I watch my favorite comics like Chris Rock or Dave Chappelle or Louis CK at the Comedy Cellar- THESE ARE THE SETS I LIKE TO SEE. I like seeing things in early stages. It might be what you're into. It might not. That said, I promise that my heart will be in it and sometimes my writing has to catch up to my heart.
But these shows will be FUN. And FUNNY. And ONE OF A KIND.
I won't be inundating you with tweets and Facebook posts about these shows, but if you want updates as I add cities, sign up for my mailing list at birbigs.com. You will never be spammed, the list is never shared, and I will email you only once every 2 or 3 weeks, maybe less.
Thanks again for your support of my movie "Don't Think Twice" (It's on iTunes November 15th!) and I hope to see you out at these shows.
Love,
Mike
October 7, 2016
Dear friends,
First of all, THANK YOU for supporting my film "Don't Think Twice." We are, believe it or not, still playing in 50 theater nationwide after 11 weeks. So thank you.
Second, GREAT NEWS: I am filming a comedy special for Netflix of the show you may have seen in NYC on on its national tour.
It would help me out tremendously if you:
A. Buy tickets (Fly in! Paint the town! Rent an Air B N B!)
B. Buy tickets for friends as a gift because you ALREADY SAW THE SHOW (Christmas? One of the Jewish holidays I can't spell? Birthday?) This is only if you already saw the show. Comedy, unlike music, is seen differently the second time. You might not even laugh. That would be terrible, literally my nightmare.
C. Forward this email to someone you think is very smart and funny. Not so funny that the person thinks "I am funnier than this show!" But the kind of funny and smart person who enjoys comedy. I'm like that. You're like that. You get what I mean.
Either way, thanks for your support and I hope to have a new show and movie for you very soon.
Love,
Mike
ALL THE DETAILS:
Live Taping of Mike Birbiglia's "Thank God for Jokes"
November 4th and 5th, 7PM & 10:30PM
BAM Harvey Theater (NOT the opera house!)
651 Fulton St
Brooklyn, NY 11217
September 12, 2016
Dear friends,
I want to let you know that I'm taking my off-Broadway show, "Thank God for Jokes," to 14 final cities, including London, which I've heard is in an entirely different country.
This show is a blast to perform, and this could be the last chance you have to see it live. Either I won't perform it anymore, or you will be dead. Or I will be dead. Or the world will end. The point is, don't wait.
Tickets go on sale for all of these shows tomorrow at 10 AM EST. And as a special bonus, Joe Bags is going to send the first 25 people who place an order for tickets a hand-screened print from the show. Just shoot him your order at joebirbiglia@birbigs.com.
Thanks for all of the support, and I'll see you at the show out there.
-Mike B
All the New Dates: all the links at www.Birbigs.com/tourdates

September 30 Portsmouth, NH    The Music Hall       GET TICKETS!
October 5        Glenside, PA        Keswick Theatre    TICKETS ON SALE 9/13!
October 7        Bethesda, MD        The Music Center    TICKETS ON SALE 9/13!
October 11      London        Leicester Square Theatre     TICKETS ON SALE 9/13!
October 20      Worcester, MA        Hanover Theatre    TICKETS ON SALE 9/13!
October 21      New Haven, CT    College St. Music Hall    TICKETS ON SALE 9/13!
October 22      Northampton, MA    Calvin Theater      TICKETS ON SALE 9/13!
October 23      Burlington, VT        The Flynn Theatre    TICKETS ON SALE 9/13!
October 27      Weatherford, OK    Southwestern Oklahoma State University    GET TICKETS NOW!
October 29      Austin, TX               Paramount Theatre    TICKETS ON SALE 9/13!
December 6    Knoxville, TN           The Bijou Theater    TICKETS ON SALE 9/13!
December 7    Nashville, TN           James K. Polk Theater TICKETS ON SALE 9/13!
December 8      Dallas            Winspear Opera House     TICKETS ON SALE 9/13!
December 9     San Antonio, TX         Tobin Center        TICKETS ON SALE 9/13!
August 12, 2016
Hey guys,
Thanks so much for all of the tremendous support of Don't Think Twice. I so appreciate your emails and twitter and Facebook responses (I re-read them for 13 hours a day). The movie is truly a labor of love for all of us and I can't tell you how much we appreciate the support.
With your help we can make Don't Think Twice the little indie film that could. We may not have any super heroes, there's no CGI, and the Rock is only in one tiny part as a shy barista*, but we have a lot of heart and some hard laughs.
So we're expanding to MORE CITIES this weekend. (Be patient, Cincinnati and Florida and Canada. We're trying our best to get EVERYWHERE!)
I'm very happy to announce that THIS WEEKEND we're expanding to these cities:
Oakland, CA
Palm Desert, CA
San Diego, CA
San Jose, CA
Santa Cruz, CA
Santa Rosa, CA
Atlanta, GA
Indianapolis, IN
Silver Spring, MD
St. Louis, MO
Milwaukee, WI
So if you live near one of those places, please come THIS WEEKEND. It'll really help us get everywhere. And if you like it, please tell your friends. Because YOU ARE THE ADVERTISING BUDGET. (I'm not kidding)
Thanks again, friends. You've always been there for me. Except that one time, but I get it. It was raining.
Love,
Mike
*a lie
August 4, 2016
Hey friends,
So those of you in NYC, Chicago, and Los Angeles really came through. Like in such an insane way. Our first weekend in NYC was packed- 28 Q & As. And Chicago and LA were the same way. Just tons of people. So now that it seems like people like the movie (I love it, but I'm biased) and critics like it. So now we're allowed to TRY opening in 60 theaters.
That means- like the 20 cities that you'd expect- like Seattle, Portland, DC, Philly, Boston, Dallas, Austin, San Francisco, Detroit, Minneapolis.
But then also, 6 more theaters in New York. 6 more theaters in LA. Long Island. New Haven. Hartford. Jersey. Like, a bunch of places that it MIGHT NOT BE POPULAR IN.
I honestly have no idea.
This weekend is going to be fascinating for me. Because it might work in 60 theaters, but it also might not. All I know is: I promise you it's good, it'll make you laugh and cry, and if you show up THIS WEEKEND, I might get to make another one. (This is what THE PRESIDENT OF SHOW BUSINESS has told me.)
So I'll put the list below and if you're near one of these places, make it a date, or a friends night out, or a solo movie night. (I do that. It's not weird.)
Or not. But either way, thanks for supporting the movie. You've either been getting these emails recently since I was in, like, Trainwreck, or you've been on here since I was an emcee at the Bananas, Go Bananas, and Funnybone Comedy Club circuit of America. Either way, I'm glad to have you along. I appreciate all the support.
Love,
Mike
To recap, Don't Think Twice will continue to play this weekend in:

Chicago
Los Angeles
New York City
And we're adding theaters in these cities, you can view the full list with links to tickets.

Annapolis, MD
Austin
Baltimore
Berkeley, CA
Bethel, CT
Boston
Brooklyn
Burbank, CA
Camarillo, CA
Cambridge, MA
Campbell, CA
Chicago
Dallas
Denver
Detroit (Royal Oak)
East Hampton, NY
Farmingdale, NY
Hartford, CT
Highland Park, IL
Kew Gardens, NY
Irvine, CA
Laguna Niguel, CA
Long Beach, CA
Malverne, NY
Manhasset, NY
Menlo Park, CA
Minneapolis
Montclair, NJ
New Haven, CT
North Hollywood, CA
Norwalk, CT
Pasadena, CA
Philadelphia
Phoenix
Plano, TX
Pleasantville, NY
Portland, OR
Rocky Hill, NJ
San Francisco
San Rafael, CA
Santa Barbara, CA
Santa Monica, CA
Scottsdale, AZ
Seattle
Stony Brook, NY
Torrance, CA
Washington, DC
West Hollywood, CA
West Nyack, NY
White Plains, NY
Woodland Hills, CA 
July 27, 2016
Guys,
This past weekend my movie Don't Think Twice came out in NYC and a ton of people came out. The reviews have been very generous, and I'm kind of just on cloud 9 since I've spent 3 years making this movie and it's been a huge labor of love. So THANK YOU.
"Will it come to MY town?" you ask.
Yes.
I'm working on it.
I'm traveling to 30 cities with the movie to make sure the movie does well enough in those cities so we can come to EVERY city. This is where YOU come in. If you generally like me and things I do, come see me in Los Angeles or Ira Glass THIS WEEKEND. We will be doing many highly entertaining post-screening Q & As. We also have super secret special guest moderators in Los Angeles (Like SETH ROGEN on Thursday. WAIT, WHAT?!)
So there it is.
This weekend it's in:
Los Angeles: With me, and, at many of them, Keegan-Michael Key, Gillian Jacobs, Kate Micucci, and Tami Sagher! GET TICKETS!
Chicago: With insane radio host and genius producer Ira Glass GET TICKETS!
New York City: Now playing in 3 theaters! Sunshine, Lincoln Center, and BAM!
Get tickets now.
Together we can get this movie seen by all of America, not just these 3 cities.
Thanks for being a part of this. I owe you one.
Love,
Mike
July 13, 2016
Hey guys,Great news.  I'm traveling the country with my new movie Don't Think Twice and adding more live Q&A's in NYC, Los Angeles, Seattle, Portland, Denver (All listed below.) Or check out all the cities here.

Get tickets fast because they sell out quick. They're all just movie ticket prices – so for like, 9 to 13 bucks you get a movie and the Q & A. It's always kind of a blast.

Also, I was asked by Landmark Theatres, a theater chain that's graciously showing the film in many, many cities, to write a "A Note from the director."

So you can read it on their site, or below.

Thanks, everybody. This tour has been such a great time.

Love,
Mike

A note from Mike Birbiglia about Don't Think Twice

A few years ago my wife Jen came to one of my improv shows at the Upright Citizens Brigade Theater in New York City and made this observation:

"Everyone onstage is equally brilliant, but somehow that person is a movie star and that person is on SNL and that guy lives on an air mattress in Queens."

I remember thinking "Not only is that an astute observation about the unfairness of life, but it's also a movie." I could see the whole film. A Big Chill-esque ensemble comedy set in the world of an improv theater that has just lost its lease. A group of best friends in their 30s confronting the idea that not everyone is gonna make it after all. And to me, improv is a great metaphor for life. The basic rules of improv are:

1. Say yes.
2. It's all about the group.
3. Don't think.

These, to me, are principles that have helped me in being a filmmaker, an artist, a parent, and a husband. So that was the jumping off point.

And then, to be honest with you, part of the reason I made the film was that it was a film I wanted to see. I feel like comedies with true drama are something of a lost art form. I fell in love with films like Hannah and Her Sisters, Broadcast News, Almost Famous, and Bob & Carol and Ted and Alice. I was asked by my producers to come up with some more recent references, but there aren't a lot. Beautiful Girls?

Anyway, when I go to the movies I want to laugh and cry and laugh and cry and then think and talk with my wife about it for a week- or a month- or for the rest of our lives. To me that's what separates film from TV. As filmmakers we try to introduce characters, place you in their shoes as they struggle, and reach some sense of resolution. All within 90 minutes or so.

Not easy, but we took a stab at it.

Which is why I'd urge you to see the film in the theater. To laugh with strangers. To cry with strangers. Maybe bring a few friends and go out afterwards to talk about how your group of friends has aged through the years. How you feel like there are things in life that you feel like you deserve more of, or less of. If anything, it'll be a great jumping off point for a discussion.

Life isn't fair, but it is funny.

Upcoming Don't Think Twice Screenings with post-show Q&A's

July 14         Chicago            Music Box Theatre @ 7:30 PM                SOLD OUT

July 21-24    New York City  Sunshine Cinema with Mike and Ira Glass    GET TICKETS

July 28-31    Los Angeles    The Landmark @ 7:30 PM                        GET TICKETS

August 2       Denver             Mayan at 7:30 PM                                   GET TICKETS 

August 4        Portland, OR  Cinema 21 at 7:30 PM                             GET TICKETS

August 5         Seattle           SIFF Cinema Uptown at 7 PM                 GET TICKETS
May 25, 2016
Hello friends,
Great news.
I have made another movie.
It's called Don't Think Twice and it's about a group of best friends in an improv troupe where two of them get the chance to audition for an SNL-type of show and the rest of them…don't. It's funny. It's sad. It feels like life. You can watch the trailer here.
It's a movie I'm really really proud of and, to make sure it gets seen by as many people as possible I'm hand delivering it to America as well as giving free improv workshops to local improv theaters. Cool, right?
Which means…I'm doing sneak previews in these towns with a Q&A afterwards. The best part is. It's cheap. Most are on sale for around 10 bucks, like regular movie tickets. But the tickets will go fast:
Thursday, June 2        San Diego, Ken Cinema @ 7:30 pm
GET TICKETS!
Monday, June 6    Los Angeles, LAFF Premiere Arclight Culver City @ 6:45 pm
GET TICKETS!
Tuesday June 7        Phoenix, Camelview at Fashion Square 14 @ 7:30 pm
GET TICKETS!
Wednesday, June 8    San Francisco, Clay Theatre @ 7:30 pm
GET TICKETS!
Friday, June 10         Seattle, Seattle Film Festival, Uptown @ 7 pm
GET TICKETS!

Monday, June 13        San Rafael, CA, The Rafael @ 7:30 pm
GET TICKETS!
Thursday, June 23 & Saturday, June 25th    Nantucket Film Festival – Multiple Showings
GET TICKETS! 
Monday, June 27        Boston, Kendall Square Cinema @ 7:30 pm
GET TICKETS!
Tuesday, June 28     Philadelphia, Ritz East @ 8 pm
GET TICKETS!
Wednesday, June 29    Washington, DC, E Street Cinema, @ 7:30 pm  SOLD OUT, Second Screening Added at 8:15 pm
GET TICKETS!
Sunday, July 10           Dallas, The Magnolia @ 7:30 pm
GET TICKETS!
Monday, July 11          Minneapolis, Uptown Theatre @ 7:30 pm
GET TICKETS!
Tuesday, July 12    Detroit, Main Art Theatre @ 7:30 pm
GET TICKETS!
Thursday, July 14    Chicago, Music Box Theatre @ 7:30 pm
GET TICKETS!
Friday, July 22 & 23        New York City, Sunshine Cinema with me and my producer Ira Glass – Multiple Screenings!
GET TICKETS!
So get 'em.
Now.
No, then!
Okay, now.
It'll be fun to see you again. I think you're gonna love this one.
Love,
Mike
p.s. If your town isn't listed, don't despair. "Like" us on Facebook facebook.com/dontthinktwicemovie and you'll get updates about when we come to your town. And follow us on twitter at twitter.com/dontthinkmovie.  
March 29, 2016
Guys,
Quick note.
I want you to know that the off-Broadway run of my show, Thank God For Jokes, is extended through May at the Lynne Redgrave Theater in New York City!!

1. If you like my comedy, you should see the show.
And I got you a code to get cheaper tickets than other people (20 bucks cheaper!) It's BIRBIGS. And you can get tickets here. But don't tell the other people. They are weird and bitter losers and will hate you. They are bad, bad people – these people without codes.

2. Don't bring kids. I curse a little in this show.
Or a lot, depending on how you measure a little and a lot. That said, it's not gratuitous. It's to make a point. And sometimes to be funny. But it's certainly not a comedy crutch, though it is funny when it happens. Because, well…cursing can be funny. Not always but sometimes. Sorry.
3. You can see it again.
People always ask me on twitter and facebook: "WHAT IF I'VE SEEN THE TOUR VERSION?" Okay, I mean…It's a close call. It's a lot of similar stories in different stages, but you can read what this guy said who saw it THREE TIMES. Or you can trust the New York Times reviewer who saw it one time.
This also proves that I google myself a lot.
Okay, that's all.

The show is so fun. I'm super proud of it. And this is best place to see it by far. It's a beautiful, intimate 230 seat theater. Same place I did Sleepwalk With Me in 2008. Every seat is close to the stage, so we can share some long, awkward eye contact. Alright, love you guys. See You there.
XO,
Mike
And check out this fine fine print!

Offer not valid on previously purchased tickets and may not be combined with any other offer. All sales final. Blackout dates and other restrictions may apply. Phone and Internet orders are subject to standard service fees. Offer may be revoked without notice. Offer is valid through May 31, 2016.
December 18, 2015
Hey everyone,
Thanks so much for supporting my new show, Thank God for Jokes, performances begin February 2nd at the Lynn Redgrave Theater.
My brother, Joe Bags, has asked me to let you know that all of the bonus screen prints are on their way, and every person who ordered on Black Friday also has the signed Christmas card on the way. Joe asked me to mention that the first 150 orders on Black Friday were placed by 3:35 PM, and that the first 100 orders on Monday, November 30th, were placed by 9:06 PM.
Moreover, Joe wanted me to mention that he learned a lot about Microsoft Excel, how to export large amounts of data, and how to merge fields using formulas. Joe feels these are skills that could one day serve him in the real world.
I hope this update makes sense to you. Great seats are still available for my new show in New York City, and if you have a printer they make great stocking stuffers. Use the code "JOKES" to get discounted tickets to the first 10 shows.
Thanks guys!!! Psyched for you to see the new show. Be safe, and happy holidays.
Love,
Mike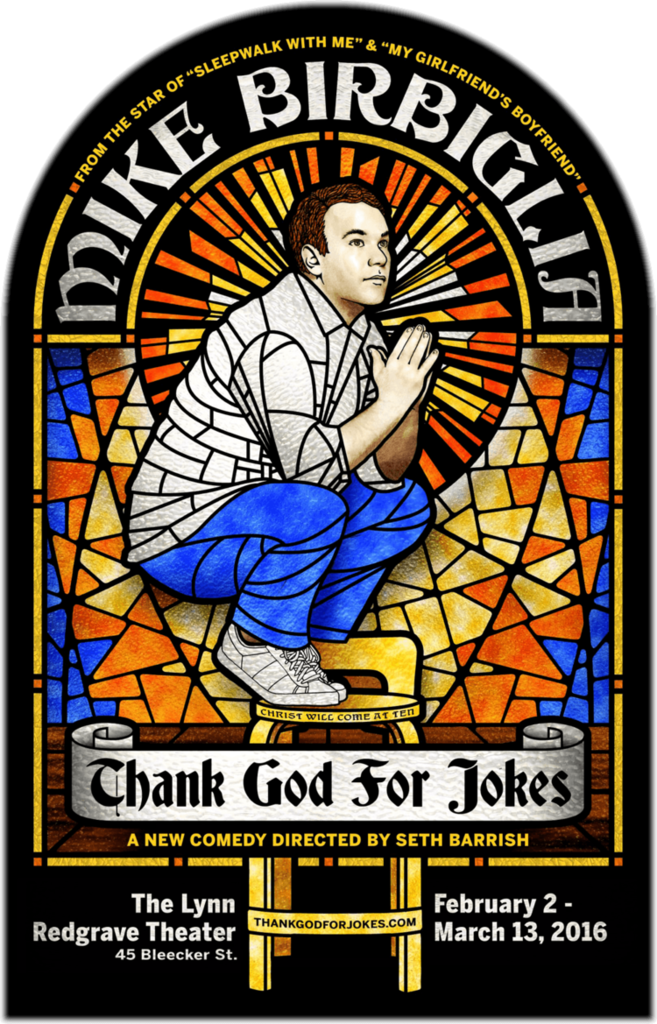 November 27, 2015
Friends,
It's me, Mike. That p'awkward idiot who jumped through the window in his sleep. Happy Thanksgiving! I feel genuinely thankful for you.
I have performed my all-new show "Thank God For Jokes" in EIGHTY CITIES in the last two years. Are there eighty cities in America? Yes, and 2,019 Applebee's. But I'm not here to tell you about Riblets™.
I'm here to tell you that my final stop for "Jokes" is New York City.
For six weeks I'll be performing "Thank God for Jokes" in the beautiful and intimate Lynn Redgrave Theater, the same theatre where I debuted Sleepwalk with Me eight years ago. To this day I have people come up to me on the street and tell me about seeing Sleepwalk there 8 years ago. We put our hearts into these off-Broadway shows. We have a Tony award winning set designer Beowulf Boritt. We have our award-winning director Seth Barrish. I have honed the material to be the most precise, finely tuned, funniest show I can possibly conceive. It will be a blast. I promise.
And I'm telling you first. Because here's the thing. Theater tickets are insanely expensive. I know. I get it. It's absurd. So I'm giving you the first chance to buy tickets to the first 10 preview shows at a discount. Before a press release goes out. Before there's a single ad or subway poster. When you use the code "JOKES" you can buy tickets for 35 bucks plus fees. (4 bucks).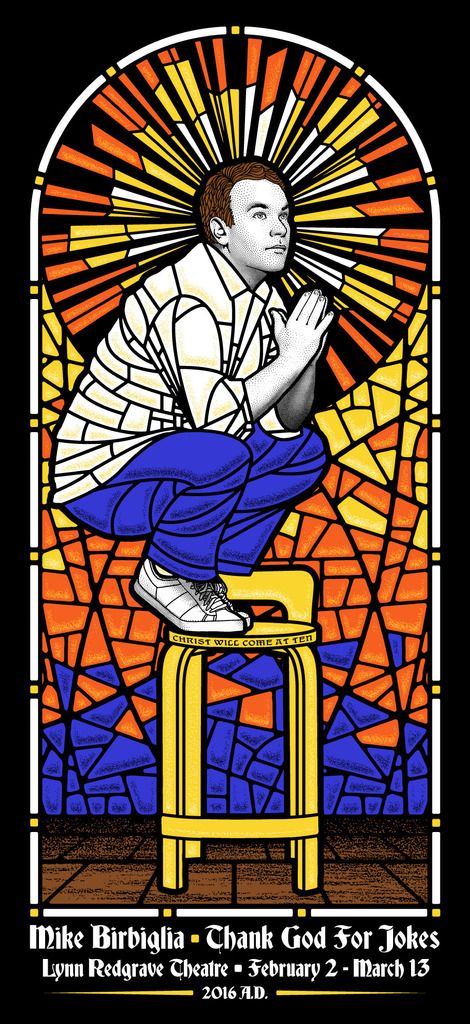 Be one of the first 150 orders and get this free screen print. Thanks designer Adam Jeffers!
And because it's Black Friday and we've just gone on sale, Joe Bags is sending the first 150 people who order tickets this limited edition screen print of the show, as well as my signed Christmas card. That way you put the poster under the tree/menorah, you hand your sweetie the card, and you say, this is for the show I also got you tickets for. Boom.
One last thing. Maybe don't bring kids under 13 or so. Or 16, depending on your kid and how terrible a parent you are. This show is written for adults. It's about jokes and thus the language is sometimes not what you'd hear on the radio or on Jimmy Fallon. That said, it's not gratuitous. It's extremely precise to the word and I'm very proud of that. So adults, rejoice. You will laugh your balls off.
Okay, that's it. I love you guys. Be safe. Don't drink and drive, hit me, and then make me pay for the car.
Love,
Mike
August 27, 2015
Dear friends,
Good news. I'm making another movie! It's another indie low budget affair like Sleepwalk With Me with a ton of heart and a cast that you'll love: Keegan-Michael Key, Gillian Jacobs, Chris Gethard, Tami Sagher, Kate Micucci, and me.
We play an improv group called "The Commune" and what would really help us is real people like YOU who love improv and comedy and want to get a sneak peak at what making a film is all about.
You'll spend about 6 hours with us and we'll give you food and candy and high fives and improvised comedy. It'll be pretty cool.
If you're into it, email Natalia at DontThinkBackground@gmail.com  and she will confirm details, answer questions and let you know if we need you. We'll probably need you.
Anyway, with any luck this will be a movie we'll all be watching in 2016 and then in 30 YEARS FROM NOW WITH OUR CHILDREN. (no pressure to have children)
Come join the fun. This will never happen again.
Love,
Mike
FINE PRINT: (same font size)
You need:
•        To be at least 18 years old
•        To have an open schedule for the day
•        To sign a release that says your image might end up in use in the film
•        This offer is not for SAG actors, if you are union you can go to
sylviafaycasting.com for more information.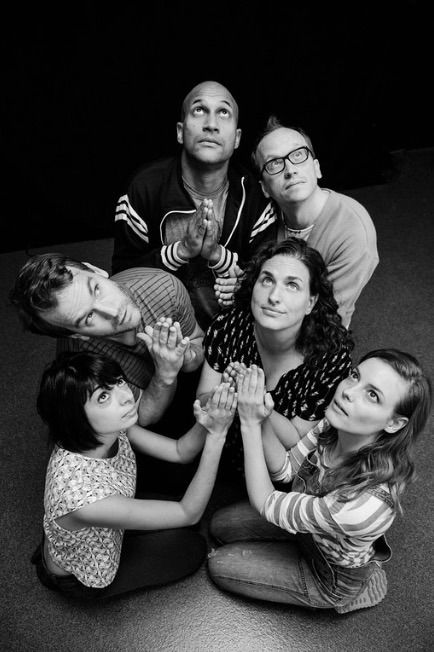 January 7, 2015
I know it's a big weekend for Pats nation, and I want you to know that I'm with you and Tom Brady in spirit this Saturday. If Tom should need some help, I'm happy to go in there and help out. I've been told that I bear a resemblance to Green Bay Packers backup quarterback Matt Flynn, so I'm sure I could probably also throw a football 60 yards on a 10 degree day.
                               Amirite?
But that is not why I am writing today! I'm writing to let you know that we've added a 7:30 PM show at the Wilbur Theatre in Boston, and you can get the best tickets right now with pre-sale code 'BOSTON'
This is an encore performance of my "Thank God for Jokes" show, and there's no better venue in Boston to perform it than the Wilbur.
I'll see you at the show!
-mike b
November 3, 2014
Dear friends in DC, Florida, and California,

I've got three big tour legs left on my 2014 Thank God for Jokes Tour – Washington, DC, Florida and California. It's been an absolute blast so far. THANK YOU to everyone who has come out to the shows and in honor of these five upcoming Florida shows I've decided to rename this month "Flovember."  You don't have to, I think it's gonna be a thing. I checked with Obama and he hasn't returned my email. Flovember it is!

Joe Bags has graciously offered to join me for Flovember and Gatorland's biggest advocate, Chris Gethard, will be opening all of my Flovember shows. For his part, Joe Bags will be selling (and eating) raw hot dogs in the lobby that you can throw at Chris while he's onstage, but you'll need to sign a release.
Flovember kicks off with a show in Orlando at the Hard Rock Live. From Orlando I'm heading down to West Palm Beach, where Joe Bags plans to look at timeshares in exchange for a voucher good at any area restaurant. From there Flovember moves on to Miami, where Joe Bags has proposed we wear aqua pants and rent a purple Lamborghini. Apparently he has a Groupon, so we can't not do it. On Friday, Flovember 21st I'll be performing in St. Petersburg, home of the Tampa Bay Rays (and also my Aunt Ann). I've invited the entire Rays organization to the show, so if you're a Rays fan, it might be a great opportunity to meet all of the players. According to Joe Bags I am legally allowed to say this because I used the word "might." That said, my Aunt Ann will definitely be there. Saturday, Flovember 22nd it all happens in Jacksonville.  After the show we're all going to head over to the Catty Shack to feed tigers in the moonlight.

So come on out to a show, Florida, I'll be signing tour prints, CDs, books and/or babies after every one. But wait, who still owns CDs?! You're about to. See you out there, friends. And thanks for being a part of this insane tour.
Love,
Mike

June 18, 2014
Hey friends,
I've got some BIG NEWS.
My mom thinks it's "a little much," and my dad thinks I need some reality testing, but I've just added 32 cities to my Thank God for Jokes Tour. There are a lot of pre-sales starting today and tomorrow, and you can see the whole list here at birbigs.com.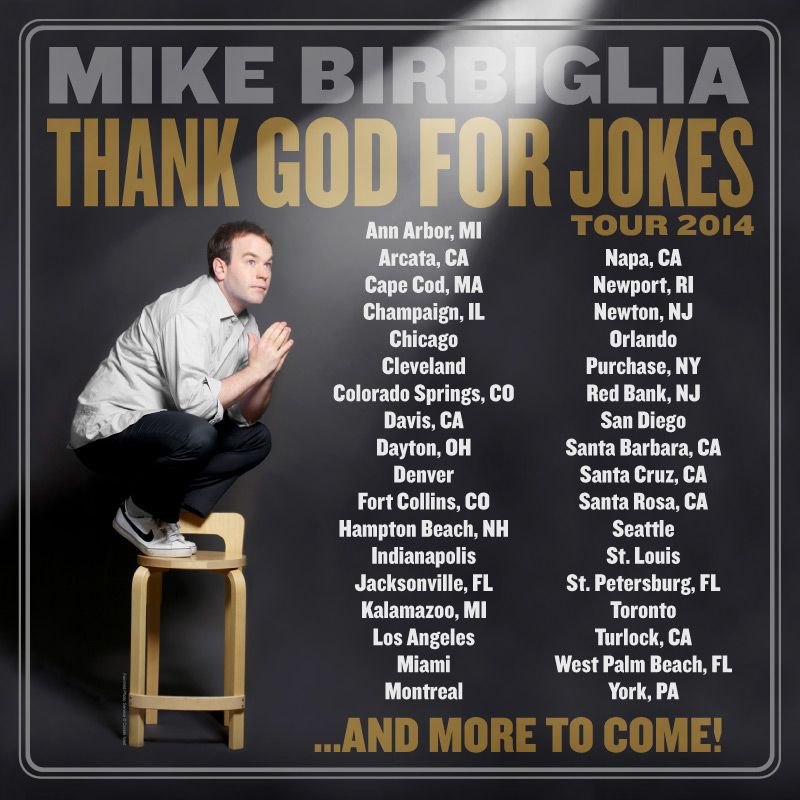 Sorry Shenzen, Taipei, and Marseille, you're not on the list.
I'm coming to back to some of my favorite cities, like Chicago, Denver, and St. Louis, and I'm coming to some cities I've always wanted to perform in, like San Diego and Colorado Springs. I've actually got 8 dates in California, and if you want to follow the tour around like the Grateful Dead and sell figs out of the back of your van, that's totally mellow, bro!
Also, let me just say THANK YOU to everyone who has come to the tour so far. I know some of you drove hundreds of miles. In some cases you flew in an airplane. One guy sold his own plasma. (do not do this.) The point is, you went to great lengths to see this Thank God For Jokes Tour. And that means so much to me. Again, do not sell your plasma. But thank you. And thanks for all these nice user reviews!!!
Anyway, love you guys. See you this summer and fall. Get tickets now for seats NEXT TO MY FACE.
Also, how 'bout The Fault in Our Stars? Made me cry for a week and I now have a lifetime crush on Ansel Elgort.
Until we meet again, friends.
Mike
May 21, 2014
I've just completed week six of the Thank God for Jokes tour and am heading into Week, wait for it…SEVEN.
It's been super fun and I want to thank everyone for coming out in Wisconsin, Michigan, Minnesota, Utah, North Dakota and all those other states. It's by far the most people who have ever come out to one of my tours and it has been, dare I say it, the funniest show I've ever toured with. These reviewers think so here and here. but don't read those if you don't want any jokes spoiled for you.
I WANT YOU TO EXPERIENCE IT SUPER FRESH.
This week I've got a tour bus and a Joe Bags and I'm heading to Columbus, where I recorded the My Secret Public Journal Live! album, Pittsburgh, where I recently filmed The Fault In Our Stars, Troy, which is near Albany and I've heard has an amazing Music Hall, and Wilmington, Delaware, with its amazing Grand Opera House.
And there's more to come after that, so check out out all of my upcoming cities.
Take note, HOUSTON.
Remember how I haven't visited in 6 years and you always complain about it on Facebook? Well, I'm coming. 
How about you, CHARLESTON?
You think you're so cool? You are. I'm coming by to soak it up.
How about you, CHARLOTTESVILLE?
You think you're smarter than me because you have A COLLEGE? Maybe you are. But I'm coming there regardless.
And don't get me started on Mesa, AZ, Las Vegas, New Orleans, and Omaha. I plan to take no prisoners with this tour. Nor do I plan to injure anyone or even make anyone feel bad. It's sort of a feel good, prisoner-less tour.
I hope to see you there, friends. I've been writing this newsletter/blog for many years and it's finally happening. It's official. I'm going EVERYWHERE.
All my love,
Mike
February 26, 2014
Dear Journal,
This week I returned to New York after 5 weeks on the road. Last weekend I played the Wilbur Theatre in my hometown of Boston, which was thrilling, though, for a moment, uncertain. There was a blizzard and the governor asked people to stay off of the road, except in the event of comedy emergencies. So the show went on, but we decided that anyone who couldn't get there safely could attend a make-up show in May. It was like a comedy snow day; we'll just make it up at the beginning of summer.
These days it doesn't seem like the meteorologists have any idea when it's going to snow. The forecast for last weekend was "wintry mix"- which basically means, "We don't know what's gonna happen. We know what season it is…" And they know they're going to get partial credit for the word "wintry."
Last year when I was supposed to play Worcester there was a snow emergency. "Snow emergency" is a disconcerting term. When I was a kid a snow emergency meant that my brother Joe had stuffed snow into my pants, shirt and hat and had made me into a human snowman. And then I'd cry to my mom and she would yell at Joe. But while Joe would be getting yelled at he would make me laugh and then he'd say to our mom, "If he's so upset, why is he laughing?" And it was true. I was laughing.
Because the distance between laughing and crying is not very far. Crying is when you're so upset that your defenses are down and you just can't keep it together. And laughing is when something is so funny that your defenses are down and you just can't keep it together. Joe knew this, and he would use it against me to make me look like a hysterical crazy person.
After Boston Joe and I flew into Minnesota and drove to Fargo. As we were driving, there were probably 6 or 7—I'm not exaggerating—6 or 7 cars and tractor trailers just in snow banks on the side of the road. And I don't think that was their final destination. They weren't like, "I think I'm gonna take an ice-cold nap here on the side of the road!" We were just like, "Wow, we gotta watch the news and find out about this when we get there!" And then we turn on the news and there's no mention of it. Apparently this is the status quo.
After Fargo we drove back to Minneapolis and settled into a hotel for a few days. Strangely, we didn't have to go outside because they have "Skyways"- which are these weird post-apocalyptic hallways that connect the buildings downtown.  It's not a natural thing to have in a city. I think it means that the city is…uninhabitable. And I got lost so many times in these scary tunnels that I thought I was in an existential play. I was just like, "Wait, I was…ah, man…I'm gonna just rest here for a little bit. I guess I'll just live at this T-Mobile from now on."
But all the buildings don't build skyways, so you can't always get to where you want to go. So at one point when I was trying to get back to my hotel I just gave up and walked outdoors with no coat. It was 0 degrees. Fortunately, it was "mostly sunny." But then the wind started blowing, or as I like to call it, there were ice bullets. And then I just started jogging. And I'm jogging towards my hotel in a button-down shirt and no coat and I'm just like, "I DON'T KNOW IF I'M GONNA MAKE IT!" If I had seen a cozy snow bank I might just have plopped down and taken a nap.
But I made it. And I did some really fun shows in Minneapolis and St. Paul. And this week the tour continues on to the Westbury Music Hall in Long Island – which is the home to my in-laws live as well as Theresa Caputo, the Long Island medium, who predicted the show will go quite well.
From there I head to Philadelphia, Foxwoods, Madison, and Milwaukee. "When is my Hawaii date?" you may ask. Not scheduled just yet. Joe Bags is still working on it. Until then I'll be laughing/crying as I navigate the wintry mix.
And that concludes this week's entry in my secret public journal.
I'll see you around the building!
-Mike B
February 15, 2014
Friends in New England,
We seem to have a little storm going on. Nevertheless, the shows will go on tonight. If you are unable to attend due to inclement weather and unsafe driving conditions, there will be a make-up show announced soon, so nobody misses out.  Thanks!
-Mike
February 10, 2014
Hey Everybody! 
I have huge news that comes in two convenient parts. It's like a Kit Kat bar of useful information (this analogy will not carry through). First, tickets have just gone on sale for my shows in New Orleans, Baltimore, Norfolk, Charlottesville, and Richmond!!

In other news, I have achieved a life-long dream. With the help of the talented people over at Blue Collar Press, I now have my own baseball card! It's just like the real thing, except it's much larger and therefore more impressive (take that, Roger Clemens).
Sorry I am not in mint condition!
Joe Bags will be selling these poster-sized baseball cards at my shows in Boston next weekend. If you don't live in Boston but still enjoy novelty baseball cards, you can pre-order a hand-screened print here.
See you out there, kids! So far it's been a blast. Let's keep it going?
Love,
Mike
April 4th – Baltimore, MD
April 5th – Charlottesville, VA
April 18th – New Orleans 
May 29th – Norfolk, VA
May 30th – Richmond, VA 
January 23, 2014
Dear Journal,
I just finished up the first week of my 100-city tour and I'm feeling pretty great.
A lot of people thought I was crazy to tour Michigan in January, including my wife, parents, and strangers, but I knew it was the smart thing to do. Fortunately my brother Joe rented us a giant SUV equipped with 2-wheel drive. That means two wheels could spin on black ice while at the same time the other two wheels could remain locked while sliding sideways over the black ice. And as we spun out through intersections and got stuck in Rite Aid parking lots across the state of Michigan, we enjoyed more rear headroom than most comparably equipped vehicles in our class. Plus, with my headphones on in the back, I could barely hear Joe crying and swearing as he drove.
Stop 1: Traverse City – it's a strange sign when you're driving to a remote location and NO ONE ELSE is driving in that direction. On the way in to Traverse City my brother Joe and I started to worry that this was some kind of setup. That we'd show up in this small town and there'd just be a couple guys in a pickup truck laughing at us, and then they'd smother us in blankets and throw us into one of those ice-fishing holes. Like instead of cow-tipping their thing is comedian-dunking.
Stop 2: East Lansing – Word to the wise, don't say the word "Michigan" when in East Lansing – which is strange because East Lansing is in Michigan. You gotta say, "I love state," so there's no confusion with another university that may also exist in Michigan. Another word to the wise, visit their MAC Fitness Center because there's a bar and restaurant in the middle of it. I ate chicken fingers while people all around me played basketball and tennis. It was the greatest workout of my life. Every gym should have a chicken finger machine. All that place needs is a few Xboxes and a hookah lounge and it would be the best gym ever.
Stop 3: Royal Oak, Michigan – Do yourself a favor, if you're ever in this town stop by the Red Coat Tavern and enjoy an authentic British-style hamburger, something that doesn't exist anywhere else in the world! My only objection was that this place somehow glorifies the army we defeated in the Revolutionary War. Hey Michigan, you know the Red Coats were the other guys, right? Just checkin'.
Stop 4: Louisville: That Brown Theater is gorgeous and then after the show I hustled off to play with the basketball squad to defeat UConn. Great day overall, though it was strange that the tickets said another venue on them, causing much well-documented lateness.
Next stop: Salt Lake City: TONIGHT! It'll be an awesome test to see how well a show called Thank God for Jokes does in a town that brought us the Bible, part 3! I just hope they are equally into jokes. Order tickets now, there are just a few left!
And that concludes this week's entry in my secret public journal.
See you around the building!
-mike
Check out all of my upcoming "Thank God For Jokes" tour dates at birbigs.com/tourdates
Follow me on Twitter @birbigs and Like Me at Facebook.com/birbigfans
December 18, 2013
Dear friends,
It's been quite a year.
I performed My Girlfriend's Boyfriend in 20 cities across America and Australia, including a finale show at Carnegie Hall. Then I filmed the show in Seattle and released it on Netflix, iTunes, and birbigshirts.com.
Whoa. That's a lot of stuff. And I literally couldn't have done it without you guys. What I do is extremely specific and I really put my heart into it, but it's what you guys give back to me that gives me the energy to keep doing it. And also gives me the energy to write a NEW show and perform it in, wait for it, 100 cities. (Stay tuned.)
But I want to take a moment to ESPECIALLY thank everyone who came out to my shows in THESE cities in 2013:
Austin
Buffalo
Burlington, VT
Cincinnati
Coral Springs, FL
Dallas
Denver
Los Angeles
Melbourne
Nashville
New York City
Orlando
Seattle
Sydney
Tampa, FL
Washington, DC
Worcester, MA
You guys have really made me feel welcome in these fine cities, and I want you to know that I am donating to food banks and/or social services in each of them.
If you'd like to join me in a year-end donation and receive one of my last 100 signed holiday cards, just donate $10 or more online to ANY CHARITY and forward the email receipt to HolidayCard@birbigs.com. I'll send those cards out this week.
ALSO, if your charitable organization is interested in getting a pair of tickets to auction or raffle off for one of my upcoming 2014 shows, drop me and Joe Bags a line at ticketdonation@birbigs.com and we'll try our best to make it work. I've set my  artist comps aside for this in every tour city.
It's an ALL NEW SHOW for 2014. I'll meet you there. Thank God for jokes.
Love,
Mike 
November 25, 2013
Hey friends,
Just a quick note about my new comedy special and album, "My Girlfriend's Boyfriend."
They're out today on Amazon and iTunes or you can order a signed copy on Birbigshirts.com.
And I'm really proud of it. Truly. And I feel like you guys are a part of it. I performed the show 81 times off-Broadway, in 70 cities across America, then took it to Australia, Canada, and London. And for four years I honed this special into what it is today based on what was in my heart and what you guys were responding to. I wanted to make a special that was human and emotional and not just based on cultural references or cheap laughs. And you guys helped me with that by coming out to the shows and sharing the experience with me as it formed into what it became.
So thank you.
I'm releasing it today into the universe and all I can do is let it go. I really hope you'll buy it. I hope you'll tell your friends about it if you like it. And I hope you'll write a review on Amazon or iTunes and add it to your playlists. So much of what I've been able to create is based on you guys supporting it and continuing to support it. I'm so grateful. Thanks, guys.
Love,
Mike
November 15, 2013
Hey friends across America,
I am going out on tour in 2014 and I'm trying to go EVERYWHERE.
That's right, Fargo. No more tour announcements that leave you out. What's that, Eugene, Oregon? Yes, you're on the list too. Why the long face, Long Island? You're on the list too! (Oh, sorry. You actually have a long face.)
The new show is called THANK GOD FOR JOKES and it's all new stories about jokes and life and how jokes can get you in trouble in life. I think it's the funniest show I've ever toured with so I can't wait to come to your town.
Get your tickets today so you can sit closer to stage. I will be choosing 35 people per show in the first 10 rows to make out with me on stage during the show. (I'm kidding. I'm choosing 25 people per show.)
After you pick up tickets, head over to iTunes or Amazon or my store (if you want it signed) to pre-order my new CD or DVD "My Girlfriend's Boyfriend." It's the perfect size for the age-old Christmas tradition where you hang your sock on the fireplace – which is, of course, the ultimate fire hazard.
Anyway, I'll see you guys out there. I can't wait. I mean, I can. But I don't want to.
Love,
Mike
DATE    CITY                     VENUE
1/15     Traverse City, MI    City Opera House    ORDER TICKETS
1/16     Lansing, MI             Wharton Center        ORDER TICKETS
1/17     Royal Oak, MI         Royal Oak                 ORDER TICKETS
1/18     Louisville, KY          Brown Theatre         ORDER TICKETS
1/23     Salt Lake City         Kingsbury Hall          ORDER TICKETS
1/24     Portland, OR          Newmark Theatre     PRE-SALE 11/19
1/25     Eugene, OR           McDonald Theatre     ON SALE 11/18 at 10 AM
1/26     San Francisco        Palace of Fine Arts    ORDER TICKETS
2/14     Boston                    The Wilbur Theatre    ORDER TICKETS
2/21     Fargo, ND               Fargo Theatre           ORDER TICKETS
2/22     Minneapolis            Pantages Theatre    ORDER TICKETS
2/27     Westbury, NY         NYCB Theatre          ORDER TICKETS
2/28     Philadelphia            Merriam Theatre      ORDER TICKETS
3/1       Foxwoods, CT        Foxwoods Casino      ORDER TICKETS
3/7       Madison, WI            Capitol Theatre        ORDER TICKETS
3/8       Milwaukee, WI         Pabst Theater         ORDER TICKETS
3/9      Grand Rapids, MI     DeVos Hall              COMING SOON!
3/19     Columbus, OH         Capitol Theater       COMING SOON!
3/20     Pittsburgh                Carnegie Music Hall COMING SOON!
3/22     Wilmington, DE       Grand Opera House COMING SOON!
3/28     Atlanta                     Buckhead Theatre    COMING SOON!
3/29     Charlotte, NC          Knight Theater        COMING SOON!
3/30     Charleston, SC       Charleston Music Hall COMING SOON!
August 14, 2013
Hey friends,
Wanted to give you the heads up that this fall I'll be doing a few club dates to put the finishing touches on my show for my 2014 theater tour.
I love comedy clubs and these club weeks will be some of the coolest shows I do, honestly. You'll see new stories and jokes that are really funny and ready to hit the road and you'll see some stories that are insane and embarrassing and maybe never get to the stage known as "funny."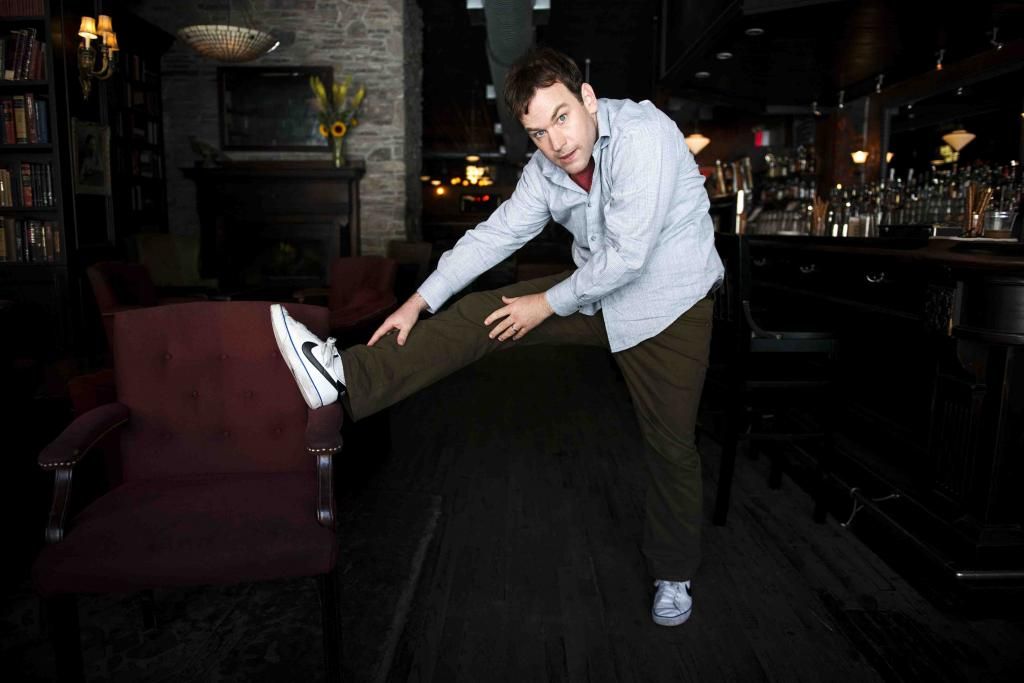 Right after this photo was taken I was asked to leave this establishment.
Either way these club shows are super fun – because they're intimate and raw and I always try to end with some requests – so I'll do Roger Clemens Hates Me or The Scrambler or whatever you want to hear.
So get tickets for these shows right away – AND keep an eye out for the "My Girlfriend's Boyfriend" concert film. It's on its way.

Sincerely with love and hugs and kisses and Xs and Os,
Mike Birbiglia
Here are the next shows!
November 21-24       Nashville          Order Tickets!
For all my latest updates follow me on Twitter and "Like Me" on Facebook. 
May 28, 2013
Hey friends,
It's just 5 days until I perform "My Girlfriend's Boyfriend" for the final time at Carnegie Hall. Over the past 3 years I've obsessively written and rewritten this material to the point where, even if you saw the off-Broadway show in NYC, it's actually quite different.
It feels cathartic to let go of all of this material and Carnegie Hall feels like the perfect place to do it; it's where I saw my first big comedy show when I moved to New York in 2000. I don't want to give anything away, but Sunday night might have some surprises.
So skip church and join me for the Birbiggest night of my life, and maybe yours.
Order your tickets now, and join me on Sunday.
Sincerely,
-mike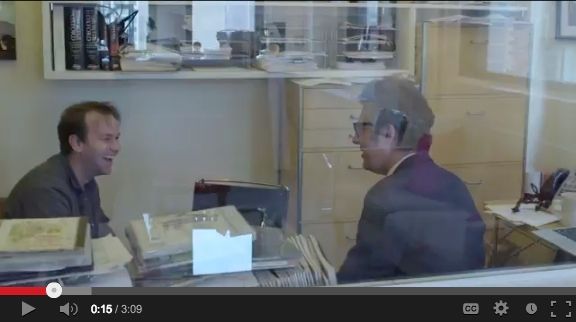 April 26, 2013
Hello from London!
I'm having a great time here at the Sundance London festival, where we're holding the European premiere of "Sleepwalk With Me."
Beginning Sunday, April 28th, the film will be available for international download for just $5. That's everywhere in the world except North America and Australia. So step right up, Japanese people, Norwegians and friends from the Ivory Coast!
AND if you paid more than $5 for the film and this announcement sort of angers you, think of all the confused people in the Guangdong province who only speak Mandarin but are desperately trying to enjoy the film.
So please, if you have friends outside of North America and Australia, please send them to Sleepwalkmovie.com.
—–
On this trip to London I'm staying at a hotel – which is a nice thing. The last time I was here I tried to save money by renting a stranger's apartment on Air B and B.
The odd thing about the place was that the shower had transparent glass on 3 sides. And two of those sides faced outside, which was the city. This place wasn't in the country where you'd be like, "Here I am! No one around! My life is an Irish Spring commercial!" There are 8 million people in London. And as I'm taking the shower I can see other people in their windows- and they're not taking showers. They're checking emails and making breakfast.
I literally started to think it might be a prank, like this apartment was some part of a game show, and the first time I climbed into the shower some talk show host would jump out from behind the toilet and yell, "I'm Shanky Wiggins and you're on Transparent Shower!"
And I'd be like, "Um, no thanks, Shanky!"
One really cool thing that happened the last time I was in London was that Boy George came to my show. Well, I invited him. My wife noticed that he follows me on twitter. And my wife and I are big fans of his.
I have a line from my first album that references a line from his song Karma Chameleon. It's about gay marriage, and I say, "It's insane that people get upset about gay marriage because everyone loves gay people when they write the song Karma Chameleon or star in the movie Top Gun. But then all of a sudden they want health care and everyone starts flippin' out. But you know what's gonna happen to these people who are flippin' out? The karma's gonna get 'em. Cause karma's a chameleon. It come and go. It come and go…ah whoa whoa."
So Boy George comes to my show and my wife and I are at the theater bar afterwards and he comes up and he says, "Hi, I'm George."
And I was like, "Oh wow. Hey. It's an honor."
And my wife jumps in and says, "He has a joke about you!"
And he says, "Oh really? What is it?"
And I just froze up. That joke was on an album from 7 years ago, so I only had a faint recollection of it…so I go, "Ummmmm….it's like, 'So karma's a chameleon. It come and go…ah whoa whoa.'"
And that's a version of the joke that doesn't have a setup or a punch line. It's basically just me repeating lyrics to Boy George that he himself wrote.
And Boy George tried so hard to laugh. He desperately tried to fill in the blanks of what might be a joke with some of those words. He was like, "Oh, that's very good."
These British folks are so polite, and I'm hoping that carries into the screenings of Sleepwalk with Me this Friday and Sunday. If you're able to make the Sunday one, there's a special Q & A with brilliant comedian Jimmy Carr – one of the best.
More later, friends! If you're in New York, I'll see you at Carnegie Hall on June 2nd!
Now, later and in 5 minutes,
Mike Birbiglia
April 19, 2013
Hey friends,
After performing "My Girlfriend's Boyfriend" more than 300 times on 3 continents and in 70 cities, I'm hanging up the collared shirt.
On May 22nd I'm shooting a concert special of the show in Seattle at the lovely Intiman Theater and then on June 2nd I'm doing a final performance of it at Carnegie Hall.
"Wait, what?"
"Yeah."
"The one in New York that's so famous and you're still Mike Birbiglia, right?"
"Yes."
"Are you sure there's not another tiny Carnegie Hall?"
"I'm sure."
The idea came up 6 months ago when I was on tour in Santa Fe and my agent Mike called and said, "I think we might be able to do a final performance at Carnegie Hall."
This made me very uncomfortable.
When I moved to New York City in June of 2000, my sister Gina took me to see Jon Stewart play Carnegie Hall. It was the first show I saw in New York. It was incredible. I laughed my ass off, but I really never thought, "That should be me." I thought, "Maybe one day I could be the opening act," And that actually happened. In 2006 I got to open for Jon Stewart at Merriweather Post Pavilion in front of 10,000 people. I remember thinking, "I do not deserve this, but I will take it." And that's how I feel about this: I do not deserve this, but I will take it.
When my agent called me in Santa Fe I was having a post show drink with my lighting designer Aaron and I expressed my trepidation. And he said, "You don't do Carnegie Hall for yourself. You do it for your parents." And he's right. Incidentally my parents didn't make it to my recent show in Worcester, Massachusetts, which is my hometown. I'm not angry, but I did think it was odd. There were no excuses, like, "We have another son performing in front of 2,000 people." It was just, "We're not gonna make it!" When you're 70 years old, you can get away with excuses like that, partly because "we're not gonna make it" could mean a lot of things.
But when I told my parents I was doing the final performance of My Girlfriend's Boyfriend at Carnegie Hall, my mom said, "I think we can come to that."
She thinks so.
I'll take it.
By the way, when I told Ira Glass that I was doing this, he said, "Do you want me and the Monica Bill Barnes Dance Company to be your opening act?" I said, "That's exactly what I want." So Ira is going to be my special guest on the show.
So now it's happening.
Me.
My parents.
Gina.
Joe Bags.
Ira Glass.
Carnegie Hall.
It will be a night to remember. I promise. I don't deserve it, but I will make it seem like I do.
Love
Mike
April 11, 2013
Hey friends,
I'm at the airport heading to Fayetteville, AR. Is that right, AR? Or AK? Or is that Alaska? Either way I'm going to both this month.
I'm a bit disoriented as I just returned from Australia, which is so far away that it's another day there right now.
Every day since returning from Australia I wake up at 4 or 5 AM, which is nice. I get up. There's sun. I get a lot done, and at night I fall asleep at 6. I'm like a farmer with no crops, animals or pitchfork. When I find myself impressed by this, I just talk to my friends with kids who explain that this is what their lives are always like.
Australia was pretty incredible. You know how the Outback Steakhouse is always bragging about having no rules? That's kind of all of Australia. They let me do the weather on TV. If you didn't see it on my twitter feed or facebook, watch it here: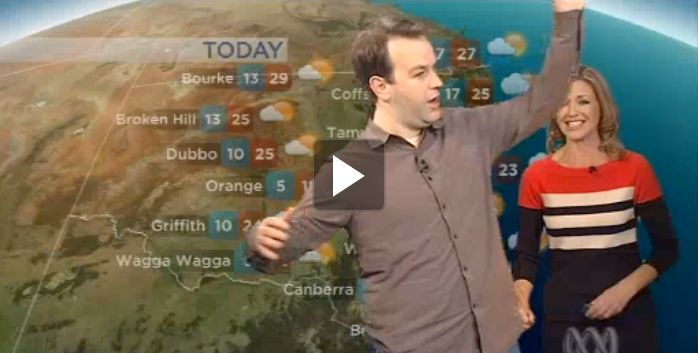 In most countries this type of behavior gets you arrested.
Turns out I don't know anything about weather! But spinning around on a green screen was quite fun. The weather lady gave me this look a couple of times as if to say, "Are you really this dumb or is this a joke?" The truth is, I'm not even sure. I'd say it's 50-50.
I got in some trouble tweeting in Australia because I tweeted a picture of a $7 bottle of water in my hotel room. I thought that was a little steep for something that covers 70% of our planet. Then, in an odd twist, the front desk decided to call me and ask me if I had enough water, because in addition to selling water for $7, they pointed out that they also have free small bottles of water. Then I felt bad and tweeted a retraction. I felt bad because the Australian Westin folks were very nice, but also the larger Westin company probably shouldn't sell water for $7.That seems like a post-apocalypse price. I feel like water should only cost $7 when people are eating each other and really need something to wash each other down.
Another odd occurrence at the Westin was that I asked for a yoga mat from the front desk and when it arrived, it had 3 condoms in it.  Apparently, they do a very different type of yoga in Australia. I twit pic'd that as well, but no phone call from the Westin management. I just don't think that's something anyone wants to discuss.
So now Sleepwalk with Me is out in all of the capital cities in Australia. We got some really exciting reviews like this and this. And the audiences there seemed to really dig it. If you're in Australia or know anyone there, forward them this email. If you think I'm not famous in America, I can't begin to explain how low my profile is in Australia. I'm most known for doing the weather.
Same goes for London. I'm premiering the movie there at Sundance London April 28th with a special Q & A with Jimmy Carr, one of my favorite comics in the world. That day it will also be available as a digital download across Europe and Asia on sleepwalkmovie.com for $5.
Thanks all the support , everybody. It means so much to me, and I'm working on the next movie, so stay tuned!
All my love,
Birbiglia
March 15, 2013
Friends,
Thanks for all the support you've given to my little film, Sleepwalk With Me. We played in 350 theaters across America, broke the IFC Center's weekend box office record, and hopefully made a lot of audiences happy/sad/more happy. If you still haven't caught the movie, you can order a signed copy from my online store, watch it on Netflix or get it on iTunes in the US and Canada.
But what about in Europe? Or Australia? Or other places where they speak English?
I'm working on it!
First up I'm heading to Melbourne and Sydney, which is kind of ridiculous because those places are not so close to each other. It's like if someone came to the US and said, "First up I'm hitting Seattle and Atlanta."
I love Australia. I love the people. I love the beaches. I love the accent – it's INSANE and everyone has it. I even get it a little when I visit.
I also found out there are a lot of people from China who live in Australia. If you've never been there it kind of takes you by surprise.
A few years ago my wife and I were in Sydney and one day we hopped in the cab of this tiny, old Chinese man, and I said, "We'd like to go to Bondai Beach, please."
And he turned around and with the thickest Australian accent he said, "Ya' goin' to Bondai Beach?!"
We were just like, "Um…you're not supposed to talk like that. Are we in The Matrix?"
One thing that's strange about performing in Australia is that it's so far from where we are that when you're performing on stage, some of the stuff doesn't make sense to the people in the audience. Their life experiences are entirely different. So when you're bombing there, you completely understand. You're like, "You people are right. This is not relatable to you. You are 100% correct in not laughing."
I have this one joke about cotton candy, where I say, "They invented it by taking sugar, which everyone knows is bad, but then they dressed it up, like insulation," and I'm like, "I'm not sure what the selling point is there. Is it the sugar, or the insulation?"
And that's a line that NO ONE laughed at in Australia.
So one night I asked the stage manager, "How come that cotton candy joke doesn't work?"
And the stage manager said, "What's cotton candy?"
And I was like, "Well, it's this food at a carnival, it looks like pink insulation, but it's made of sugar."
And then he said, "Ah, you're talking about fairy floss!"
It turns out they are conjuring up dental analogies in Australia to sell a product that is the worst dental product in the history of the world. It's like if we decided to call cigarettes 'lung vitamins.'
So the next night, and for all of my remaining shows, I would say, "I was at the carnival eating fairy floss," and IT KILLED. I was just like a local comic.
So now I'm heading back to Australia with my movie, and I'm hoping the word for "pizza pillow" in Australia is "pizza pillow" and not "mozzarella head cushion."
Thanks again for all your support, everybody. If you have friends in Melbourne or Sydney, PLEASE forward this email to them. I'm performing "My Girlfriend's Boyfriend" as part of the Melbourne Comedy Festival (Pete Holmes will be there too!!) and also for one night at the Sydney Opera House! Also, Sleepwalk With Me is being released by Sharmill Films in 15 movie theaters across Australia!
I'm doing a live Q & A after 2 Melbourne screenings on March 31st and after 2 Sydney Screening on April 5th. Details below. Love you guys. And maybe I'll see you across the world.
Sincerely,
Pope Mike Birbiglia