April 26, 2013
Hello from London!
I'm having a great time here at the Sundance London festival, where we're holding the European premiere of "Sleepwalk With Me."
Beginning Sunday, April 28th, the film will be available for international download for just $5. That's everywhere in the world except North America and Australia. So step right up, Japanese people, Norwegians and friends from the Ivory Coast!
AND if you paid more than $5 for the film and this announcement sort of angers you, think of all the confused people in the Guangdong province who only speak Mandarin but are desperately trying to enjoy the film.
So please, if you have friends outside of North America and Australia, please send them to Sleepwalkmovie.com.
—–
On this trip to London I'm staying at a hotel – which is a nice thing. The last time I was here I tried to save money by renting a stranger's apartment on Air B and B.
The odd thing about the place was that the shower had transparent glass on 3 sides. And two of those sides faced outside, which was the city. This place wasn't in the country where you'd be like, "Here I am! No one around! My life is an Irish Spring commercial!" There are 8 million people in London. And as I'm taking the shower I can see other people in their windows- and they're not taking showers. They're checking emails and making breakfast.
I literally started to think it might be a prank, like this apartment was some part of a game show, and the first time I climbed into the shower some talk show host would jump out from behind the toilet and yell, "I'm Shanky Wiggins and you're on Transparent Shower!"
And I'd be like, "Um, no thanks, Shanky!"
One really cool thing that happened the last time I was in London was that Boy George came to my show. Well, I invited him. My wife noticed that he follows me on twitter. And my wife and I are big fans of his.
I have a line from my first album that references a line from his song Karma Chameleon. It's about gay marriage, and I say, "It's insane that people get upset about gay marriage because everyone loves gay people when they write the song Karma Chameleon or star in the movie Top Gun. But then all of a sudden they want health care and everyone starts flippin' out. But you know what's gonna happen to these people who are flippin' out? The karma's gonna get 'em. Cause karma's a chameleon. It come and go. It come and go…ah whoa whoa."
So Boy George comes to my show and my wife and I are at the theater bar afterwards and he comes up and he says, "Hi, I'm George."
And I was like, "Oh wow. Hey. It's an honor."
And my wife jumps in and says, "He has a joke about you!"
And he says, "Oh really? What is it?"
And I just froze up. That joke was on an album from 7 years ago, so I only had a faint recollection of it…so I go, "Ummmmm….it's like, 'So karma's a chameleon. It come and go…ah whoa whoa.'"
And that's a version of the joke that doesn't have a setup or a punch line. It's basically just me repeating lyrics to Boy George that he himself wrote.
And Boy George tried so hard to laugh. He desperately tried to fill in the blanks of what might be a joke with some of those words. He was like, "Oh, that's very good."
These British folks are so polite, and I'm hoping that carries into the screenings of Sleepwalk with Me this Friday and Sunday. If you're able to make the Sunday one, there's a special Q & A with brilliant comedian Jimmy Carr – one of the best.
More later, friends! If you're in New York, I'll see you at Carnegie Hall on June 2nd!
Now, later and in 5 minutes,
Mike Birbiglia
April 19, 2013
Hey friends,
After performing "My Girlfriend's Boyfriend" more than 300 times on 3 continents and in 70 cities, I'm hanging up the collared shirt.
On May 22nd I'm shooting a concert special of the show in Seattle at the lovely Intiman Theater and then on June 2nd I'm doing a final performance of it at Carnegie Hall.
"Wait, what?"
"Yeah."
"The one in New York that's so famous and you're still Mike Birbiglia, right?"
"Yes."
"Are you sure there's not another tiny Carnegie Hall?"
"I'm sure."
The idea came up 6 months ago when I was on tour in Santa Fe and my agent Mike called and said, "I think we might be able to do a final performance at Carnegie Hall."
This made me very uncomfortable.
When I moved to New York City in June of 2000, my sister Gina took me to see Jon Stewart play Carnegie Hall. It was the first show I saw in New York. It was incredible. I laughed my ass off, but I really never thought, "That should be me." I thought, "Maybe one day I could be the opening act," And that actually happened. In 2006 I got to open for Jon Stewart at Merriweather Post Pavilion in front of 10,000 people. I remember thinking, "I do not deserve this, but I will take it." And that's how I feel about this: I do not deserve this, but I will take it.
When my agent called me in Santa Fe I was having a post show drink with my lighting designer Aaron and I expressed my trepidation. And he said, "You don't do Carnegie Hall for yourself. You do it for your parents." And he's right. Incidentally my parents didn't make it to my recent show in Worcester, Massachusetts, which is my hometown. I'm not angry, but I did think it was odd. There were no excuses, like, "We have another son performing in front of 2,000 people." It was just, "We're not gonna make it!" When you're 70 years old, you can get away with excuses like that, partly because "we're not gonna make it" could mean a lot of things.
But when I told my parents I was doing the final performance of My Girlfriend's Boyfriend at Carnegie Hall, my mom said, "I think we can come to that."
She thinks so.
I'll take it.
By the way, when I told Ira Glass that I was doing this, he said, "Do you want me and the Monica Bill Barnes Dance Company to be your opening act?" I said, "That's exactly what I want." So Ira is going to be my special guest on the show.
So now it's happening.
Me.
My parents.
Gina.
Joe Bags.
Ira Glass.
Carnegie Hall.
It will be a night to remember. I promise. I don't deserve it, but I will make it seem like I do.
Love
Mike
April 11, 2013
Hey friends,
I'm at the airport heading to Fayetteville, AR. Is that right, AR? Or AK? Or is that Alaska? Either way I'm going to both this month.
I'm a bit disoriented as I just returned from Australia, which is so far away that it's another day there right now.
Every day since returning from Australia I wake up at 4 or 5 AM, which is nice. I get up. There's sun. I get a lot done, and at night I fall asleep at 6. I'm like a farmer with no crops, animals or pitchfork. When I find myself impressed by this, I just talk to my friends with kids who explain that this is what their lives are always like.
Australia was pretty incredible. You know how the Outback Steakhouse is always bragging about having no rules? That's kind of all of Australia. They let me do the weather on TV. If you didn't see it on my twitter feed or facebook, watch it here: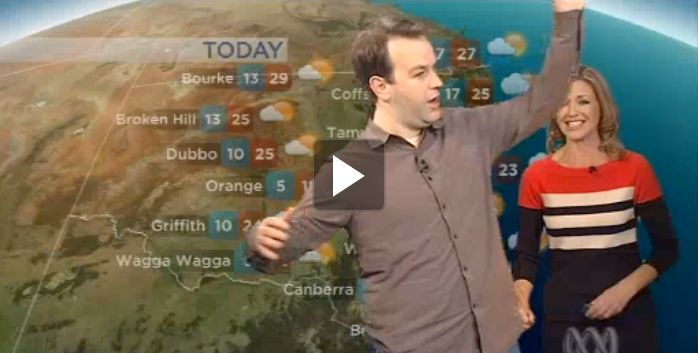 In most countries this type of behavior gets you arrested.
Turns out I don't know anything about weather! But spinning around on a green screen was quite fun. The weather lady gave me this look a couple of times as if to say, "Are you really this dumb or is this a joke?" The truth is, I'm not even sure. I'd say it's 50-50.
I got in some trouble tweeting in Australia because I tweeted a picture of a $7 bottle of water in my hotel room. I thought that was a little steep for something that covers 70% of our planet. Then, in an odd twist, the front desk decided to call me and ask me if I had enough water, because in addition to selling water for $7, they pointed out that they also have free small bottles of water. Then I felt bad and tweeted a retraction. I felt bad because the Australian Westin folks were very nice, but also the larger Westin company probably shouldn't sell water for $7.That seems like a post-apocalypse price. I feel like water should only cost $7 when people are eating each other and really need something to wash each other down.
Another odd occurrence at the Westin was that I asked for a yoga mat from the front desk and when it arrived, it had 3 condoms in it.  Apparently, they do a very different type of yoga in Australia. I twit pic'd that as well, but no phone call from the Westin management. I just don't think that's something anyone wants to discuss.
So now Sleepwalk with Me is out in all of the capital cities in Australia. We got some really exciting reviews like this and this. And the audiences there seemed to really dig it. If you're in Australia or know anyone there, forward them this email. If you think I'm not famous in America, I can't begin to explain how low my profile is in Australia. I'm most known for doing the weather.
Same goes for London. I'm premiering the movie there at Sundance London April 28th with a special Q & A with Jimmy Carr, one of my favorite comics in the world. That day it will also be available as a digital download across Europe and Asia on sleepwalkmovie.com for $5.
Thanks all the support , everybody. It means so much to me, and I'm working on the next movie, so stay tuned!
All my love,
Birbiglia
March 15, 2013
Friends,
Thanks for all the support you've given to my little film, Sleepwalk With Me. We played in 350 theaters across America, broke the IFC Center's weekend box office record, and hopefully made a lot of audiences happy/sad/more happy. If you still haven't caught the movie, you can order a signed copy from my online store, watch it on Netflix or get it on iTunes in the US and Canada.
But what about in Europe? Or Australia? Or other places where they speak English?
I'm working on it!
First up I'm heading to Melbourne and Sydney, which is kind of ridiculous because those places are not so close to each other. It's like if someone came to the US and said, "First up I'm hitting Seattle and Atlanta."
I love Australia. I love the people. I love the beaches. I love the accent – it's INSANE and everyone has it. I even get it a little when I visit.
I also found out there are a lot of people from China who live in Australia. If you've never been there it kind of takes you by surprise.
A few years ago my wife and I were in Sydney and one day we hopped in the cab of this tiny, old Chinese man, and I said, "We'd like to go to Bondai Beach, please."
And he turned around and with the thickest Australian accent he said, "Ya' goin' to Bondai Beach?!"
We were just like, "Um…you're not supposed to talk like that. Are we in The Matrix?"
One thing that's strange about performing in Australia is that it's so far from where we are that when you're performing on stage, some of the stuff doesn't make sense to the people in the audience. Their life experiences are entirely different. So when you're bombing there, you completely understand. You're like, "You people are right. This is not relatable to you. You are 100% correct in not laughing."
I have this one joke about cotton candy, where I say, "They invented it by taking sugar, which everyone knows is bad, but then they dressed it up, like insulation," and I'm like, "I'm not sure what the selling point is there. Is it the sugar, or the insulation?"
And that's a line that NO ONE laughed at in Australia.
So one night I asked the stage manager, "How come that cotton candy joke doesn't work?"
And the stage manager said, "What's cotton candy?"
And I was like, "Well, it's this food at a carnival, it looks like pink insulation, but it's made of sugar."
And then he said, "Ah, you're talking about fairy floss!"
It turns out they are conjuring up dental analogies in Australia to sell a product that is the worst dental product in the history of the world. It's like if we decided to call cigarettes 'lung vitamins.'
So the next night, and for all of my remaining shows, I would say, "I was at the carnival eating fairy floss," and IT KILLED. I was just like a local comic.
So now I'm heading back to Australia with my movie, and I'm hoping the word for "pizza pillow" in Australia is "pizza pillow" and not "mozzarella head cushion."
Thanks again for all your support, everybody. If you have friends in Melbourne or Sydney, PLEASE forward this email to them. I'm performing "My Girlfriend's Boyfriend" as part of the Melbourne Comedy Festival (Pete Holmes will be there too!!) and also for one night at the Sydney Opera House! Also, Sleepwalk With Me is being released by Sharmill Films in 15 movie theaters across Australia!
I'm doing a live Q & A after 2 Melbourne screenings on March 31st and after 2 Sydney Screening on April 5th. Details below. Love you guys. And maybe I'll see you across the world.
Sincerely,
Pope Mike Birbiglia