Hello friends,

The fall leg of my tour kicks off in EXACTLY THREE WEEKS. Joe Bags commissioned this beautiful stained glass poster. It was designed by the great Adam Jeffers and they will be available at the shows. Screen printed posters: $20. Glass versions: $239,000.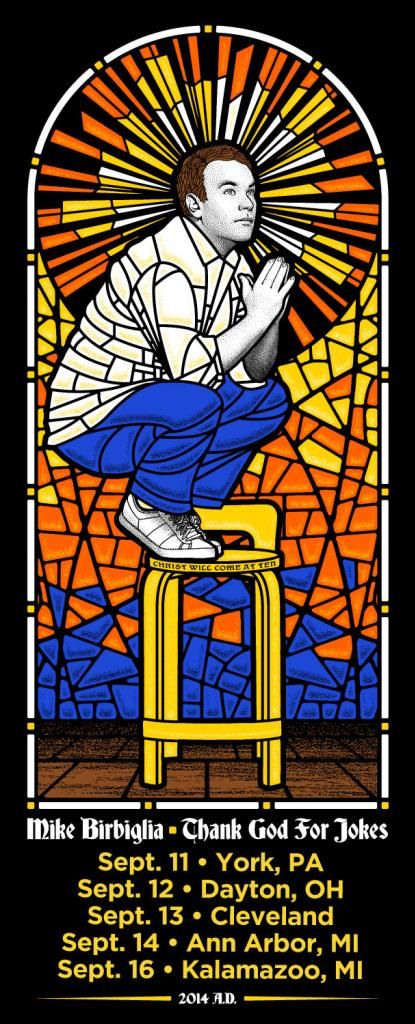 The tour picks up in: 
September 11: YORK, PA – which is a town.
September 12: DAYTON, OH – which is a very special city for me because it's where I first met my hero, the late great Mitch Hedberg. I've been performing there for the last 13 years. Always love it.
September 13: CLEVELAND, OH – Another town I've been playing for the last 13 years. Last time I was there I got sick and explained to the audience that I may throw up at any moment. And they were good with it. Good people.
September 14: ANN ARBOR, MI – This show should be awesome. It's where my wife went to college and it's the site of the Bed and Breakfast/ Unitarian Church bit from TWO DRINK MIKE. Also, Zingerman's. Hello.
September 16: KALAMAZOO, MI -This is a gem of a town and also I'm at this beautiful old theater. I played there on New Years Eve about 7 years ago and got into an argument with my then girlfriend/now wife about something that I don't remember. Must have been about how much we both enjoy Kalamazoo, MI. Right?
This should be a super fun leg of the tour.
JUST ANNOUNCED: Special guest Josh Rabinowitz who is crazy funny and has his own sketch comedy series coming out soon on Tru-TV.
So make plans with friends and get tix here: birbigs.com/tourdates
AND if you liked the Thank God For Jokes show OR are planning to come see it, please visit my Facebook page and SHARE this post with your friends. Joe Bags will be picking 5 people at random and giving them a pair of tickets. (1 for each city) If you share it, make sure you write a comment saying which city you'd want to win tickets for. And in general, just SHARE it because it's the only way people will know I'm coming. I'm not like a soap opera star. (though that dream is still alive.)
Thanks, you guys. This has been the best tour ever.
Love,
Mike
p.s. Christ Will Come at Ten.