Hey friends,
I'm at the airport heading to Fayetteville, AR. Is that right, AR? Or AK? Or is that Alaska? Either way I'm going to both this month.
I'm a bit disoriented as I just returned from Australia, which is so far away that it's another day there right now.
Every day since returning from Australia I wake up at 4 or 5 AM, which is nice. I get up. There's sun. I get a lot done, and at night I fall asleep at 6. I'm like a farmer with no crops, animals or pitchfork. When I find myself impressed by this, I just talk to my friends with kids who explain that this is what their lives are always like.
Australia was pretty incredible. You know how the Outback Steakhouse is always bragging about having no rules? That's kind of all of Australia. They let me do the weather on TV. If you didn't see it on my twitter feed or facebook, watch it here: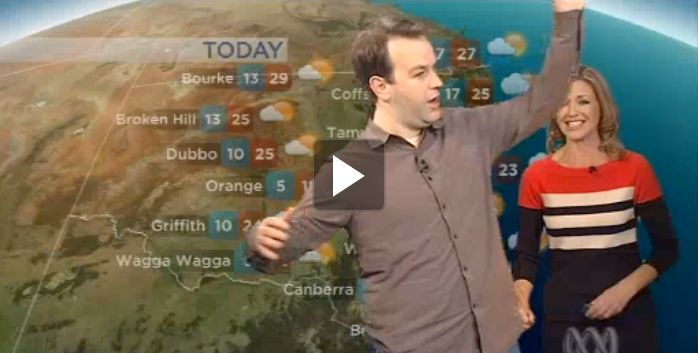 In most countries this type of behavior gets you arrested.
Turns out I don't know anything about weather! But spinning around on a green screen was quite fun. The weather lady gave me this look a couple of times as if to say, "Are you really this dumb or is this a joke?" The truth is, I'm not even sure. I'd say it's 50-50.
I got in some trouble tweeting in Australia because I tweeted a picture of a $7 bottle of water in my hotel room. I thought that was a little steep for something that covers 70% of our planet. Then, in an odd twist, the front desk decided to call me and ask me if I had enough water, because in addition to selling water for $7, they pointed out that they also have free small bottles of water. Then I felt bad and tweeted a retraction. I felt bad because the Australian Westin folks were very nice, but also the larger Westin company probably shouldn't sell water for $7.That seems like a post-apocalypse price. I feel like water should only cost $7 when people are eating each other and really need something to wash each other down.
Another odd occurrence at the Westin was that I asked for a yoga mat from the front desk and when it arrived, it had 3 condoms in it.  Apparently, they do a very different type of yoga in Australia. I twit pic'd that as well, but no phone call from the Westin management. I just don't think that's something anyone wants to discuss.
So now Sleepwalk with Me is out in all of the capital cities in Australia. We got some really exciting reviews like this and this. And the audiences there seemed to really dig it. If you're in Australia or know anyone there, forward them this email. If you think I'm not famous in America, I can't begin to explain how low my profile is in Australia. I'm most known for doing the weather.
Same goes for London. I'm premiering the movie there at Sundance London April 28th with a special Q & A with Jimmy Carr, one of my favorite comics in the world. That day it will also be available as a digital download across Europe and Asia on sleepwalkmovie.com for $5.
Thanks all the support , everybody. It means so much to me, and I'm working on the next movie, so stay tuned!
All my love,
Birbiglia