Hey friends,
I've got some BIG NEWS.
My mom thinks it's "a little much," and my dad thinks I need some reality testing, but I've just added 32 cities to my Thank God for Jokes Tour. There are a lot of pre-sales starting today and tomorrow, and you can see the whole list here at birbigs.com.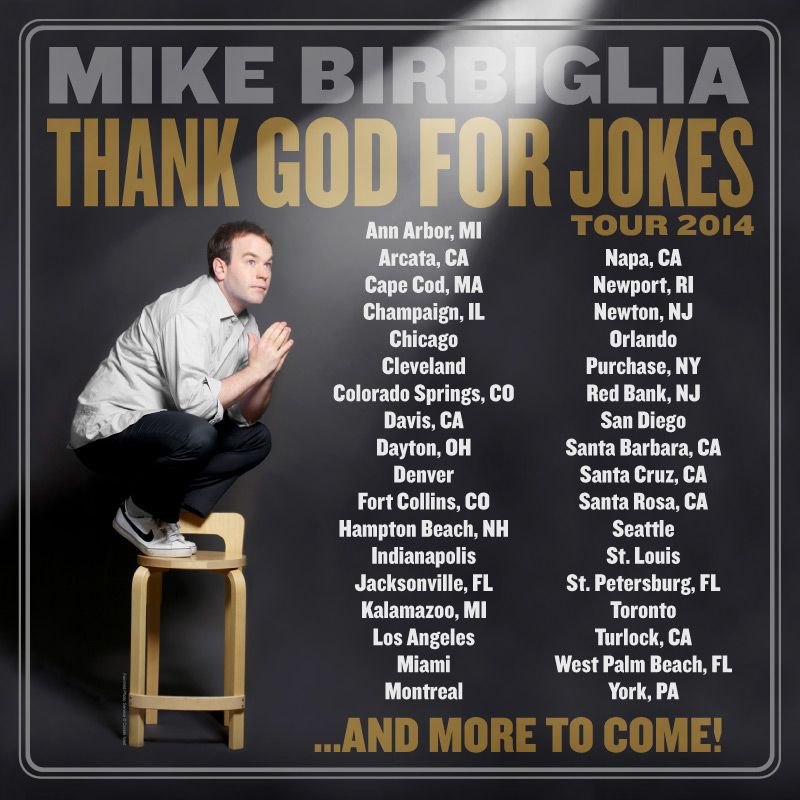 Sorry Shenzen, Taipei, and Marseille, you're not on the list.
I'm coming to back to some of my favorite cities, like Chicago, Denver, and St. Louis, and I'm coming to some cities I've always wanted to perform in, like San Diego and Colorado Springs. I've actually got 8 dates in California, and if you want to follow the tour around like the Grateful Dead and sell figs out of the back of your van, that's totally mellow, bro!
Also, let me just say THANK YOU to everyone who has come to the tour so far. I know some of you drove hundreds of miles. In some cases you flew in an airplane. One guy sold his own plasma. (do not do this.) The point is, you went to great lengths to see this Thank God For Jokes Tour. And that means so much to me. Again, do not sell your plasma. But thank you. And thanks for all these nice user reviews!!!
Anyway, love you guys. See you this summer and fall. Get tickets now for seats NEXT TO MY FACE.
Also, how 'bout The Fault in Our Stars? Made me cry for a week and I now have a lifetime crush on Ansel Elgort.
Until we meet again, friends.
Mike